Hey, if you're interested in having a website developed (or even doing it yourself), you've probably run across a lot of information on types of sites, platforms, CMS, and other aspects of building a website. The question is: What platform will be best for you?
You might start to think about website builders like Wix,  Squarespace, and Weebly to build your website on, but my advice is that you choose WordPress, why i choose WordPress is, you can easily create any type of website on the platform and 30% of  website worldwide include First Guide LLC uses WordPress, it's the most ubiquitous website platform around right now.
Some of the most widely read and influential websites are run on WordPress platforms. These include The Chicago Sun Times, BBC America, The Disney Company, The New York Post, and many more.
If the magic of Disney trusts WordPress to their website, you can bet it will work for your site as well.
You can host your WordPress site for as low as $2.95 a month on Bluehost.
In this guide, we will share the top WordPress SEO tips to help you improve your WordPress SEO and get more organic traffic.
Now let's get started.
Introduction
We know the idea of optimizing for WordPress SEO can be intimidating for beginners, especially if you're not a tech geek.
But don't worry — it doesn't have to be complicated. Start here to learn the basics, and then you can start applying them to your own website.
What is SEO?
SEO stands for Search Engine Optimization, it's the most popular strategy used by website owners to get more traffic by ranking higher in search engines
Search engine optimization isn't about tricking Google or gaming the system. It's simply about creating a website that has optimized code and formatting which makes it easy for search engines to find your website.
When people search the web for the topics you write about, your search-engine-optimized content will appear higher in the search results, and you'll get more people clicking through to your website.
Why is SEO important?
Search engines are often the biggest source of traffic for most websites on the internet.
Google and other search engines use advanced algorithms to understand and rank pages appropriately in search results. However, those algorithms aren't perfect — they still need your help to understand what your content is about.
If your content isn't optimized, then search engines won't know how to rank it. When people search for the topics you write about, your website won't appear in the search results, and you'll miss out on all that traffic.
It is really important for all business owners to make their website search engine friendly, so that they can maximize their search traffic.
WordPress SEO Basics Tips
SEO can get technical, but it doesn't have to be. Just learning a few basic SEO tips to optimize your site can give you a noticeable boost in your website traffic.
You don't have to be a tech genius to use the techniques below. If you're already using WordPress, then you've got what it takes!
There are several Top WordPress SEO Tips which can be helpful, some of these are:
Let's get started optimizing your website.
1. Check Site Visibility Settings
In case you are still editing your website, you can use a specific built-in option of wordpress to hide your website from search engines. This gives you enough time to bring in necessary changes.
There are times when SEO crawler ends up crawling your website right when you are editing it and this may act negative for your site. In such cases, this built-in can help you when you are into Website Maintenance.
To check if your website is visible to search engine, Simply log in to the admin area of your WordPress site and visit Settings » Reading page.
You need to scroll down to the 'Search Engine Visibility' section and make sure that the box next to 'Discourage search engines from indexing this site' is unchecked. After you are done editing your site
Don't forget to click on the 'Save Changes' button to store your changes.
2. SEO Friendly URL Structures 
URL is actually a short definition of your website. The url of any website must be easy to understand both by users and search engines. Here is how you can check and update your WordPress site's permalink structure.                    You need to visit the Settings » Permalinks page.  Select the Post Name Option  and then click on the 'Save Changes' button to store your settings.
WordPress helps you create SEO Friendly URLs for website so that its structure can be improved in a way to get better positions in search engines. An optimized URL is well understood by search engines and it will be ranked well.
Some examples of SEO friendly URLs are:
https://jkfirstguide.com/125-best-affiliate-programs-of-2020-high-paying-for-beginners/
https://jkfirstguide.com/best-webinar-software-platforms/
Notice that these URLs are readable and a user can guess what they will see on the page just by looking at the URL text.
So what does a non-SEO friendly URL look like?
https://jkfirstguide.com/?p=10467
http://example.com/archives/123
Notice that these URLs use numbers unrelated to the content, and a user cannot guess what they will find on the page by looking at the URL.
Using SEO friendly permalink structure improves your chances of getting better positions in search results.
Here is how you can check and update your WordPress site's permalink structure.
You need to visit the Settings » Permalinks page. Select the post name option and then click on the 'Save Changes' button to store your settings.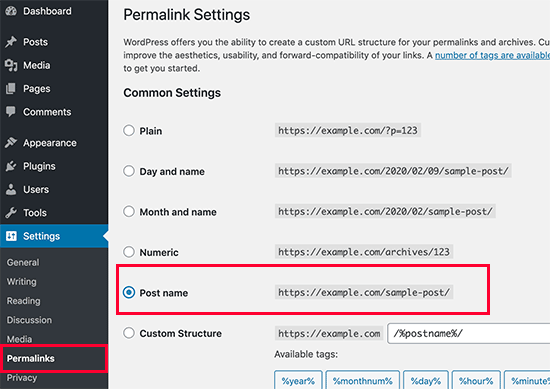 Note: If your website has been running for more than 6 months, then please don't change your permalink structure unless you're using the numbers option. If you're using Day and Name or Month and Name, continue using that.
If you change your permalink structure on an established site, you will lose all of your social media share count and run the risk of losing your existing SEO ranking.
But if you must change your permalink structure, then hire a professional, so they can setup proper redirects. You'll still lose your social share counts on the pages.
3. WWW vs non-WWW 
While you are designing a website you can either choose www or non-www websites. These are two different websites for search engines crawlers. One must know that which one to select and stick with it.  If you must change http to https, then hire a professional WordPress Developer, so they can setup proper redirects. You'll still lose your social share counts on the pages.
You can set your preference by visiting the Settings » General page. Add your preferred URL in both the 'WordPress Address' and 'Site Address' fields.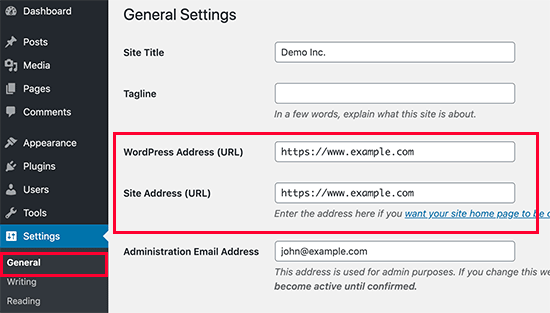 4. Add XML Sitemaps in WordPress
XML is actually small map of your website. XML sitemap includes list of every webpage included in a website. When SEO crawler get to your website, it can get detail of your web pages right at one place and this is XML sitemap.
WordPress help add xml sitemap because it has specific plugin for this. Once crawler gets XML sitemap on your website, it can crawl your site meaningfully to provide it proper ranking. So, whether it is Small Business Website or big, this is important.
We will show you how to submit your XML sitemap to Google in the next step.
Add Your Site to Google Search Console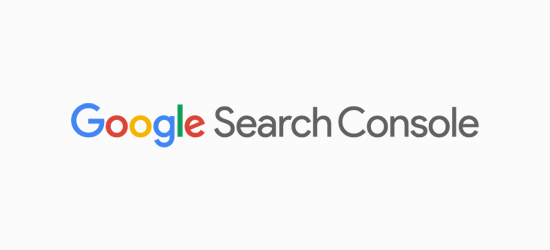 Google Search Console, also known as Webmaster Tools, is a set of tools offered by Google to give website owners a look at how their content is seen by the search engine.
It provides reports and data to help you understand how your pages appear in search results. You also get to see the actual search terms people are using to find your website, how each page appears in the search results, and how often your pages are clicked.
All this information helps you understand what's working on your site and what's not. You can then plan your content strategy accordingly.
Google Search Console also alerts you when there is something wrong with your website, like when search crawlers are unable to access it, find duplicate content, or restricted resources.
Watch the video below for a step by step guide on how to add your WordPress site to Google Search Console.
[su_youtube url="https://youtu.be/76JrQvGjghY" title="How to add your website to Google Search Console (Google webmaster)"]
If you're using Yoast SEO plugin on your WordPress Website, then follow these steps in how to add your website sitemaps using Yoast SEO plugin.
[su_youtube url="https://youtu.be/U1BLgd3GTU0″ width="400″ height="200″ title="Add XML sitemaps using Yoast SEO plugin"]
Once you have added your website to Google Search Console, click on the Sitemap from the left menu and then paste the last part of the sitemap URL.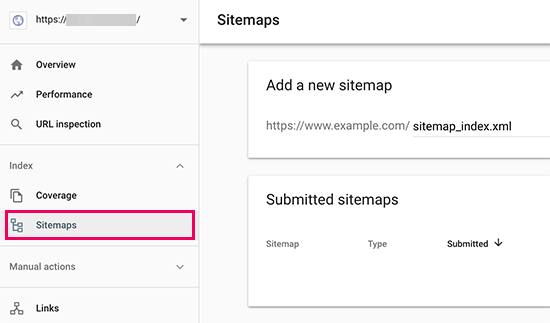 Click on the submit button to save your changes.
Google Search Console will now check your sitemap and use it to improve your website's crawling.
Once you have successfully added your sitemap, it will appear like this.
It does take Google some time to crawl your website. After a few hours, you would be able to see some stats about your sitemap. It will show you the number of links it found in your sitemap, how many of them got indexed, a ratio of images and web pages, etc.
We recommend that you check your Search Console at least on a monthly basis for gathering insights and see your website's SEO progress.
5. Optimizing Your Blog Posts for SEO
Some beginners make the mistake of thinking that installing and activating a WordPress SEO plugin is all that's needed. SEO is an ongoing process that you must keep up with if you want to see maximum results.
All top SEO plugins allow you to add a title, description, and focus keyword to every blog post and page. It also shows you a preview of what users will see when they Google your website.
We recommend that you optimize your title and description to get maximum clicks.
When writing your blog post, simply scroll down to the SEO section and take full advantage of it.
WordPress SEO articles can make a website active often and thus help gain better rankings. Blog can help keep your website active each day.
6. Doing keyword research For your Website
When a user wish to rank on search engines for a given word which is searched by users, keyword research is necessary process. WordPress brings in several keyword research tools which make this easy.
This is important while you are designing a website. Right when you are dealing with WordPress Development,you must conduct a keyword research so that you can add only best and targeted keywords on your site. This will help you rank for those keywords which are actually searched by users.
7. Work on Internal Linking
Search engines assign each page on your website a score (page authority). The recipe of this score is kept secret so that people cannot game the results. However, the most common signals of authority are links.
This is why it's important that you link to your own content from your other blog posts and pages.
You should make it a habit to interlink your own posts whenever possible. If you have multiple authors, then create a pre-publish blog post checklist that requires them to interlink at least 3 other blog posts.
This will help you boost your pageviews, increases the time users spend on your site, and ultimately will improve the SEO score of your individual blog posts and pages.
8. Security plugin for website 
If your site is slow, your rankings will surely be affected. No one wishes to compromise with this and thus Speed and Security for WordPress SEO is essential. Security is quite essential in online world to establish trust with your users.
While creating website make sure to include SSL or Https. Secure socket layer ensures additional security on website. One can also get SSL Certificate for ensuring proper security of website.
9. Check your site speed
WordPress brings in several WordPress SEO Tools that looks for website speed. When you wish to reach to your users and search engines, you must look for Speed Optimization. 
WordPress let you add amazing designs and themes without actually affecting the site speed. It is important to check Website Speed. Users simply close those websites which take so long to open. Even search engines do not rank those websites which does not load on time.
10. Start Using SSL/HTTPS
SSL (Secure Sockets Layer) is a technology that encrypts the connection between a user's browser and the server they are connecting to. This adds an additional security layer to your WordPress site.
Websites secured with SSL are indicated by a padlock sign in the browser's address bar. This makes your website more trustworthy, and it is required if you are running an online store with WordPress and processing sensitive payment information.
All top WordPress hosting companies offer free SSL certificates with Let's Encrypt. See our guide on how to get a free SSL certificate for your website for more details.
If you want a premium wildcard SSL certificate, then we recommend using Domain.com.
Their SSL certificates come with a minimum of $10,000 security warranty and up to $1.75 million security warranty. You also get a TrustLogo site seal to display on your site for added credibility.
11. Optimizing Images For SEO
Yes, it is true that search engine crawlers don't understand images on website but there is a way to make them understand this. One can follow WordPress SEO Best Practices to add alt image tags in the website which will add a name to images on your website.   
you need to make sure that you use images that are optimized to load faster.
WordPress helps add these names easily. WordPress can also help keep an eye on size and quality of image so that best images can be added on your website without actually increasing the site loading speed.
Best WordPress SEO plugin
One of the best parts about WordPress is that there's a plugin for everything, and SEO is no exception. There are thousands of WordPress SEO plugins which makes it harder for beginners to choose the best WordPress SEO plugin.
While you wish to apply effective techniques of SEO to your website, you can develop your website using WordPress platform. This is because it brings in some of the already existing built-in plugins which can make SEO quite easy. There are two important plugins which can be used by users for best WordPress SEO and these are Yoast SEO and All in One SEO. We Choose Yoast SEO as our favorite, we currently use it here on First Guide LLC
Our Services
We are the best company to improve your business.
First Guide is a software development & digital marketing company, that primarily focuses on client needs and strives to deliver result oriented solutions. We handle every project with great diligence and provide the best solution and ROI to boost business growth. We firmly believe that we succeed when our clients succeed. see our services below:
Web Development/Design
Mobile App Development
Digital Marketing
[su_button url="https://jkfirstguide.com/request-a-quote/" target="blank" style="stroked" background="#f01b0c" size="5″ id="Quote"]Request a Quote[/su_button]
Conclusion
We hope this article helped you learn how to properly optimize your WordPress site for SEO. Go ahead and implement a few of these WordPress SEO tips, and you should see an increase in your traffic within a few months as the search engines process your changes.
If you liked this article, then please subscribe to our YouTube Channel for WordPress video tutorials. You can also find us on Twitter, Instagram and Facebook.